We are beyond excited to pop, clink and cheers to the launch of our BRAND NEW online store tomorrow, and we hope that you'll join us to raise a glass!

If you haven't already heard about it from us (a billion times) 😎, we're hosting a little virtual shindig tomorrow night (Friday, November 6th) at 8pm EST right here on IG Live, and we're beyond grateful to have a gorgeous line-up of party guests... stay tuned!

But before we change from our daytime uniform pj's into our fancy black tie party pj's, we thought it would be fun to share our new FAVOURITE tea-infused cocktail recipe! You may have seen @timbolen sipping this with us at the shop on Monday's @chch_morninglive, and it was just too good not to share!

It's super easy to make and super yum to drink... plus it pairs perfectly with a fun Friday night IG Live! 

Ingredients:
•Peach turmeric tea (infused overnight or steeped in a mason jar)
•Soda water
•Vodka

Optional:
•pink sugared rim (we just used food colouring ;)
•cranberry ginger tea infused simple syrup (recipe below)

Here's how we whipped it up...

The Hue La La Spritzer

Start by running the glass with the simple syrup and then coat in pink sugar (optional)
•Ice
•1 part vodka
•2 parts soda water
•2 parts Organic Peach Turmeric Tea

Simple Syrup
•1 cup sugar
•1 cup brown sugar
•1 cup infused Organic Cranberry Ginger Herbal Tea
•squeeze of lemon
•Bring all ingredients to a boil, stirring, until sugar has dissolved
•Drizzle in the cocktail for a little extra sweet zing!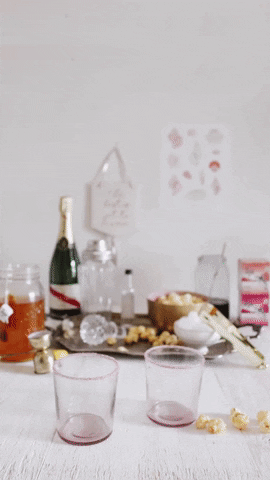 Oooooh, and before we forget! We're excited to share that @Cityline is helping us celebrate our launch tomorrow morning! Tune in at 10am on CityTV, or watch online anytime!

Who's ready to get hammered??? Er, we mean... Who's ready to party???!!!
Continue reading
Comments